We will post on this page any reports we receive on what has been seen recently, or what to look out for, on the Hill and Common.  Let us know what you have seen by sending an email to webmaster.leckhamptonhill@gmail.com.
Reported by Geoff on 21st September 2021
Two things to report.  Firstly, work has started to improve the state of various sections of the Cotswold Way to overcome the very muddy problems we experienced last year.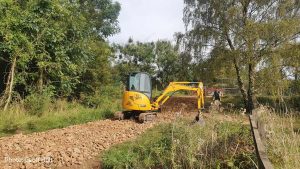 Secondly, the phantom trig-point painters have been out again, but they have only done one side so far.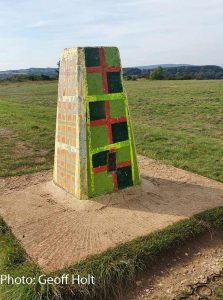 Reported by Tim on 20th July 2021
I was lucky to get a picture of this Pearl Bordered Fritillary on the Hill today.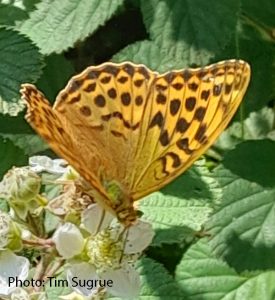 Reported by Geoff on 1st July 2021
We had a group of sixth form students and teachers from Cheltenham College come and join us for a work party on the Hill today.  They helped us to clear and burn some gorse and also did some litter picking and were a great help.  We did allow them to have a break to eat lunch and enjoy the view!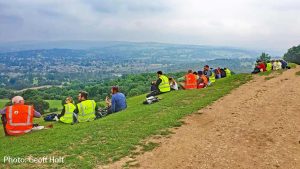 Reported by Tim on 17th June 2021
I was in Brownstones today, and saw my first bee orchid of the year. Also a white Helleborine from yesterday.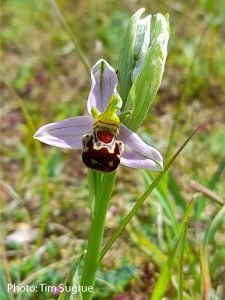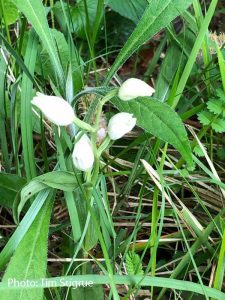 Reported by Mike on 18th May 2021
The Cotswold Voluntary Wardens repaired and improved the steps leading up to the gate in the main Cotswold stone wall that is at the start of the footpath to Hartley Farm – see the following before and after photos.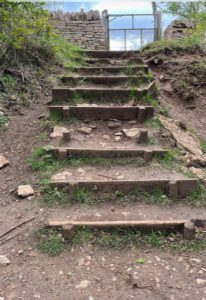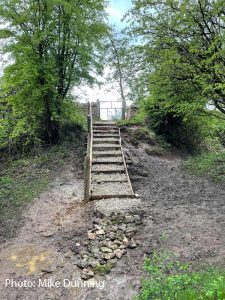 Reported on 20th April 2021 by Geoff
A number of things have been happening on the Hill recently, including …
Salterley Quarry car park on Hartley Lane has been resurfaced so should be much more inviting to visitors.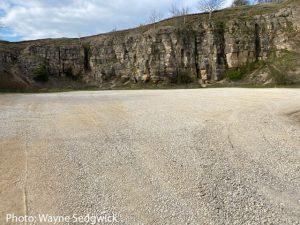 There is now a coffee kiosk in Brownstones car park on the top of Hill off Hartley Lane.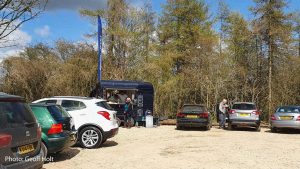 Please enjoy it, but please drop your used cups in the bins provided and not on the ground. Thanks
Posted on FOLK's Facebook Group on 21st March 2021
Chris says: We think we just saw a parrot on the hill near Hartley Lane farm … it was quite large, green with a striped bill.  Anyone lost a bird?  It's very beautiful.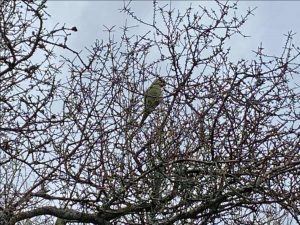 Reported 16th November 2020 by Geoff
Have you seen Brownstone Quarry Car Park recently?  It's been significantly increased in size.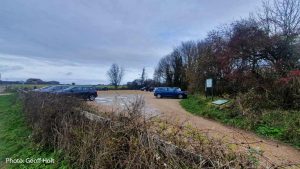 Unfortunately, on occasions, it is still getting full and people are parking on the roadsides restricting access. If this happens then please use Salterley Quarry Car Park instead.  You have to pass it when driving along Hartley Lane to Brownstones but it is easy to miss (see first photo below).  However, it is very large and never full (see second photo below).  Yes, you do have to walk up a steepish track to get on to the Hill proper but the Cotswold Wardens have now added steps to the track leading up from the rubbish bin to make it easier (see third photo below).  Give it a try sometime.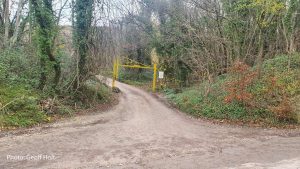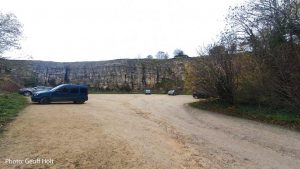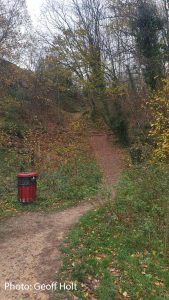 Reported 30th October 2020 by Clive
Leckhampton Hill Mountain Biking
It is great to see increased activity on Leckhampton Hill by all kinds of users.  But this has led to occasional friction between bikers and other users.
A group of riders, walkers, the Friends of Leckhampton Hill and Charlton Kings Common (FOLK) and Cheltenham Borough Council are working together to ensure that all users can use the hill safely.  This does not mean a Nanny State sanitisation of your favourite tracks.
Even though walking on the hill is a right whereas cycling is by the permission of the landowner, Cheltenham Borough Council, walking groups accept that it is not safe for them to use MTB (mountain biking) tracks.  Us riders will have to accept that we cannot just create tracks everywhere on this private land and designated Site of Special Scientific Interest (SSSI). The SSSI staus is the reason for the council's funding of conservation work by the council and FOLK.
The main, well-established trails that we all know and love like Mainline and the Comings will remain with some warning signage for riders and walkers and, in some case, mods to reduce speed and improve lines of sight where they join walking paths.  You will see some of the minor more ad-hoc MTB tracks being blocked off because we are unable to make them safe for other users.  This is normally because they join walking tracks without the possibility of slowing or with poor visibility.  This is the small price we are going to have to pay for keeping the long-established trails on the hill.  So please work with us by not riding or reopening these trails so that we can maintain biking access on the hill whilst keeping other users safe.
If you do plan to do any digging on the hill, we ask that you speak to the Senior Warden, Wayne Sedgewick (07733014743, Wayne.Sedgwick@cheltenham.gov.uk) first.
Other contacts:
Leckhampton Downhill trails & trail fairy's Facebook page
Clive Lewis, MTB Capt. C&CCC, mtb@cheltenhamandcounty.cc
Reported 8th October 2020 by Geoff
A couple of good developments on the Hill:  the Cotswold Voluntary Wardens have installed steps up the steep and slippery bank just above Bridge Car Park on Daisy Bank Road, and, Brownstone Quarry Car Park right on the top of the Hill is being about doubled in size and is now usable.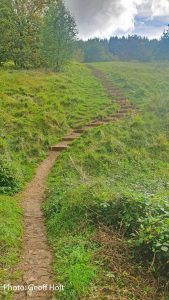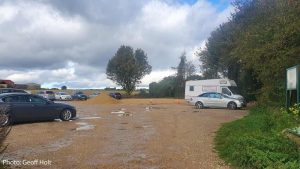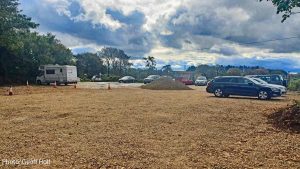 Reported 10th May 2020 by Tim
Some pictures of Fly Orchids and a Green-Veined White butterfly taken on the Hill.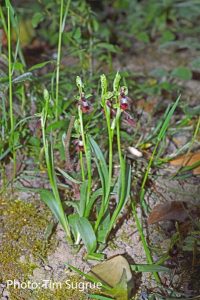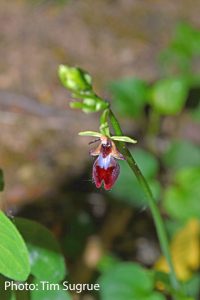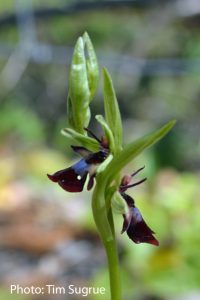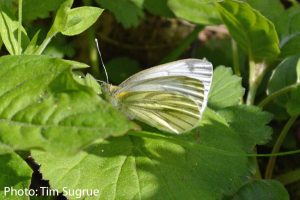 Posted 9th May 2020 by FOLK Webmaster
Why not join FOLK's facebook page to see what is happening on the Hill and Common.  There have been lots of posts and photos added this spring.  The group is unsurprisingly called 'Friends of Leckhampton Hill and Charlton Kings Common' and can be accessed by clicking on the facebook logo which can be found towards the top right-hand side of any page on the FOLK website.  Enjoy!
Reported 11th March 2020 by Gordon
Saw an adder near the Quarry car park this morning, looks pregnant. Was stretched out and my 2 dogs walked over the top of it and it coiled up as in the picture, lucky it wasn't more awake otherwise the dogs could have been bitten.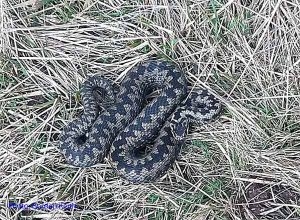 Reported 17th December 2019 by Geoff
We had an interesting view during today's work party.  Cheltenham disappeared in the mist and all we could see was Cleeve Hill popping out on the other side.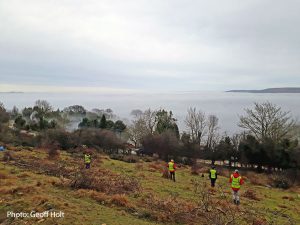 Reported 14th November 2019 by Geoff
We had a demonstration of a 'Robocut' machine on the Hill today.  It cuts through gorse and bramble very easily and is much faster than doing it by hand.  We may consider using it in the future.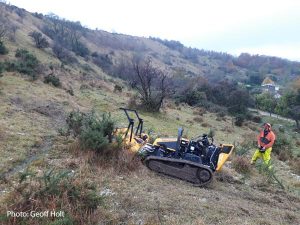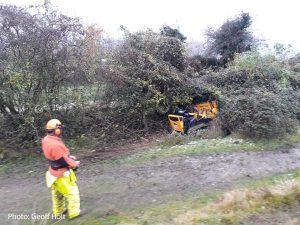 Reported 24th October 2019 by Ken

FOLK is now one of the good causes in the Cheltenham Lottery.  By taking part in this lottery and nominating FOLK as your good cause, not only will you be helping FOLK but you might also win £25,000!  See our lottery page for more details.
Reported 12th September 2019 by Samantha
I snapped this beautiful but very unusual caterpillar on the path this morning.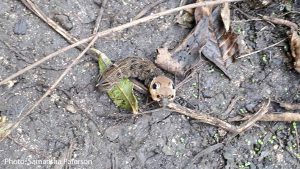 Reported 8th August 2019 by Geoff
We were joined today at one of our regular work parties by 5 people from THB Group, a local company, as part of their company's local volunteering support initiative.  They helped us a lot to cut and clear a large open area above Bridge Car Park on Daisy Bank Road and then they went on to do some litter picking on the Hill in the afternoon.  Thanks very much for your help, it was much appreciated.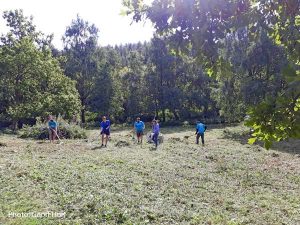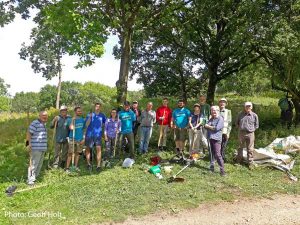 Reported 7th July 2019 by Mike
FOLK had stalls at both the Charlton Kings Summer Fayre and Cheltenham Midsummer Fiesta recently.  We had a lot of visitors to the stalls and we successfully recruited 102 new members.  Wow!!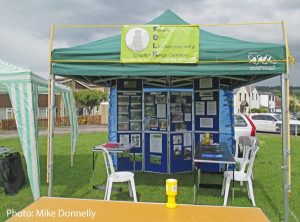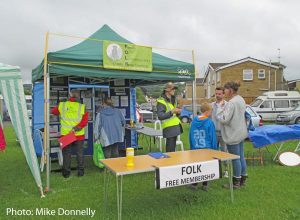 Charlton Kings Summer Fayre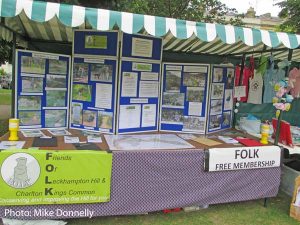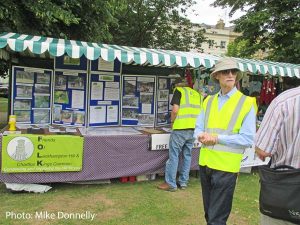 Cheltenham Midsummer Fiesta
Reported 13th June 2019 by Geoff
Found some lovely bee orchids in Brownstone Quarry today.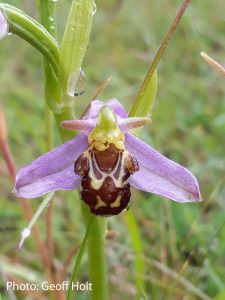 Reported 4th June 2019 by Geoff
Disappointingly some person/s once again set fire to some patches of gorse on the top of Charlton Kings Common yesterday.  This is very disappointing behavior and damages the site and potentially the enjoyment of the many users and visitors to the area.  Fortunately a passing cyclist spotted the fire and called out the Fire Brigade who put out the fires.  I'm sure we are all very grateful for their speedy response.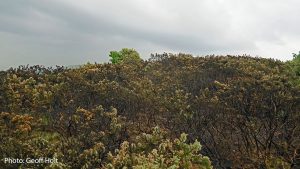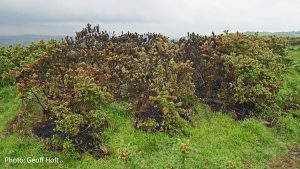 Reported 12th May 2019 by Pete
FOLK again held a successful quiz night on Friday at The Wheatsheaf Inn with attendees from various local 'Friends' groups.  There were 8 teams and the winners were the Nits of the Round Table, with Friends of Hatherley Park second.  Thanks to all who attended and to the Wheatsheaf for their hospitality.
Reported 7th May 2019 by Tim
I saw these Early Purple orchids today.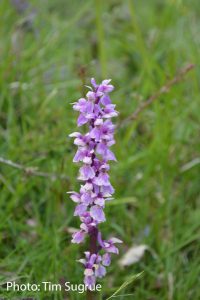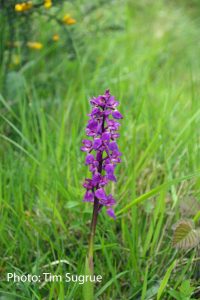 Reported 3rd May 2019 by Geoff
The Cotswold Voluntary Wardens have been continuing their good works on the Hill.  As you can see from the photo below they have been making good progress with rebuilding the Cotswold stone wall at the Hartley Lane end of the Cotwold Way, and they have also installed some more new steps.  Thanks to them for their efforts.
Reported 8th April 2019 by Mike
Eleven members of the Southfield WI picked up litter on Friday, including on Leckhampton Hill.
We started at the Old Pates ground and the children's play area. Other areas covered were the lay-byes, car parks and turning circle on Leckhampton Hill, Church Road and Kidnappers Lane. We did not find as much litter as usual. Some areas had obviously had the grass cut and litter cleared by others. It was however worth doing as you can see from the picture attached (more litter was added after this picture was taken).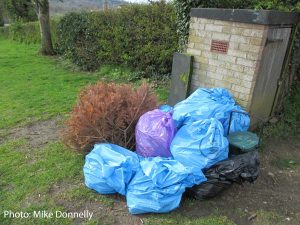 Reported 24th March 2019 by Bob
There is to be a talk on Bumble Bee Conservation in Charlton Kings on Thursday 11th April at 7pm.  If you are interested please have a look at this flyer Bumble Bee Talk 11-04-19
Reported 14th March 2019 by Geoff
A number of gorse fires were set maliciously on Charlton Kings Common on Monday which required attendance by the fire brigade to put out.  Fortunately, with the recent wet and cold weather, they didn't spread too far and hopefully the areas will recover.  If anybody would like to set fires on the site I would recommend that they join the FOLK work parties which frequently have fires, some being quite impressive, rather than starting uncontrolled fires.  Some of the damage done can be seen in the photos below.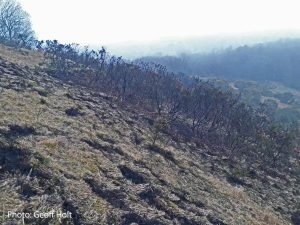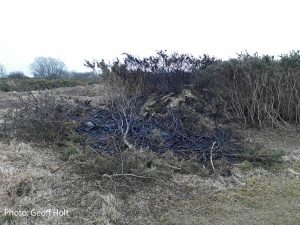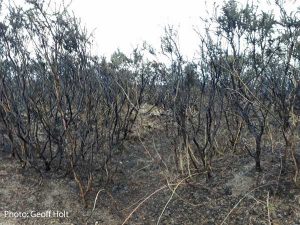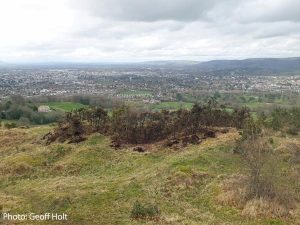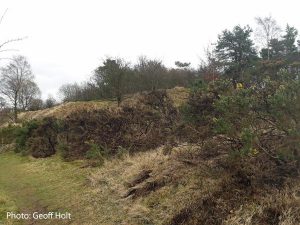 Reported 24th February 2019 by Martin
There was a hoard of people working on the Hill today – see photos.  They were FOLK volunteers supported by local paragliders and were clearing away gorse to improve the area they use for preparing their gear and taking-off and landing.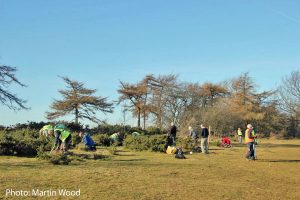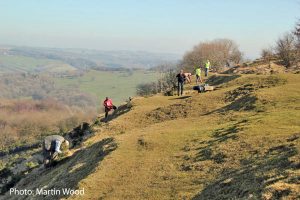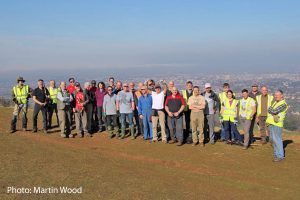 Reported 19th December 2018 by Geoff
Not only have the Cotswold Wardens started building a cotswold stone wall they have also put some steps in on the footpath alongside it.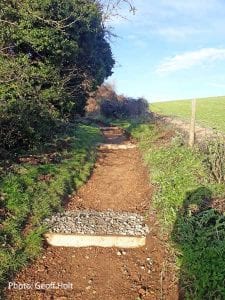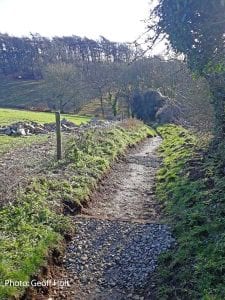 Reported 16th October 2018 by Mike
The Cotswold Voluntary Wardens are making good progress in building a new Cotswold stone wall at the South West end of the site alongside the Cotswold Way just above Hartley Lane.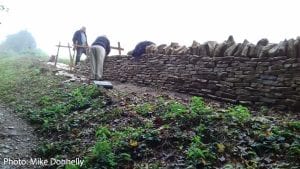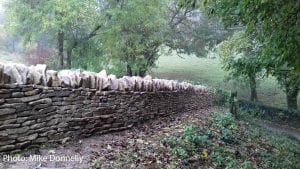 Reported 18th August 2018 by Andy
Is this the beast of Leckhampton Hill? I keep seeing it, but never with anybody.
I can't get close enough to see its collar as it seems shy. It's constantly on the move and checking every other dog scent trail. It makes a point of doing its business under a fence & really keeps itself to itself, not even interested in any other dog that confronts it. I'm starting to think it's just left home & someone is missing it. It looks quite well fed though. Seen here by the farm on Daisybank track. Last time out I saw it walking down the Tramway.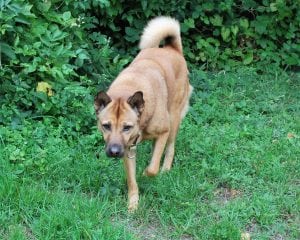 Reported 17th August 2018 by Alan
We found the Leckhampton Hill Nature Reserve walk on the 'Walks With Wheelchairs' website.
My wife and I were on holiday in Winchcombe with my mum who has mobility issues and uses a mobility scooter and we were looking for a walk all three of us could do together on a sunny day in mid-August.
After finding our way to the 'Friends of Leckhampton Hill and Charlton Kings Common' website we contacted local warden, Wayne Sedgwick, to get more information about the car park location and the nature of the path we were hoping to follow.
The walk involved a stretch of farm track that my mum found a bit bumpy to begin with but she said she got used to it after a while. She had to choose her route carefully at some points through the various bumps and ruts on the track but we made pretty good progress to the end of the track.
We decided to head straight for the trig point in the hope of getting the good views across to the Welsh hills that the warden had promised us – if the weather was good! We passed the old trig point and headed across a grassy field to the viewpoint which gave us a breathtaking view across the valley below, all the way to Wales.
The view was well worth the effort it took to get there. It was a windy spot but I'd taken the precaution of taking a windproof jacket along for my mum to wear as she sat on the scooter (even though it was a sunny day, because she was sitting, she was obviously a bit more vulnerable to the cold than we walkers were).
Full marks to the warden for taking the time to give us a clear explanation about finding the car park location and the encouragement to make it as far as the trig point.
Reported 9th August 2018 by Geoff
When we were up on a work party today we noticed that someone has painted the trig point.  It's now quite jazzy!  But who has done this?  FOLK would love to know.  If you know, please contact us by email or facebook.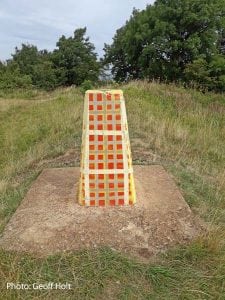 Reported 5th August 2018 by Chris Daish
I visited Leckhampton Hill for the first time today to do some drone photography.
I thought you might like to see a sample of the photos I produced.  You can also view a video via this youtube link https://www.youtube.com/watch?v=swULOuQjdR0&t=74s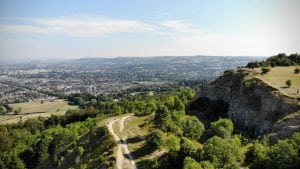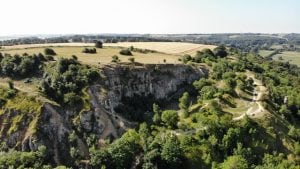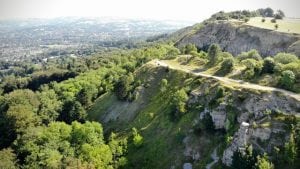 Reported 7th July 2018 by Pete
FOLK had a stall at the Mid-Summer Fiesta in Montpelier today.  We had a lot of visitors and managed to sign up 50 new members.  Really good!  Thanks to everyone who helped.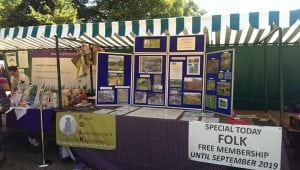 Reported 3rd July 2018 by Geoff
We have started to replace the FOLK noticeboards on the Hill with new ones that have been painted by Pittville School.  They make a nice change, as you can see from the photo below of the first one to be installed in Tramway Cottage Car Park.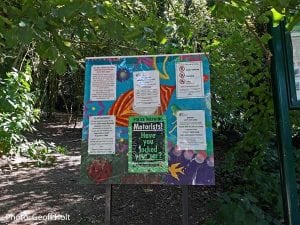 Reported 25th June 2018 by Mike
We generated a lot of interest with our FOLK stall at the Charlton Kings Summer Fayre on Saturday.  As a result we signed up 29 new members.  Good effort by all.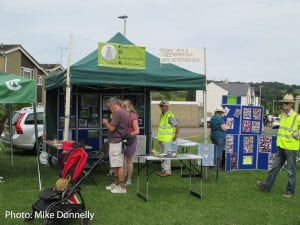 Reported 29th May 2018 by Tim
I took the following photos of orchids and a large fungus on the Hill today.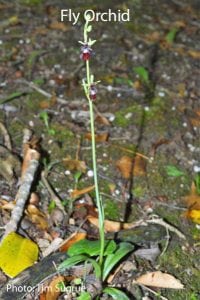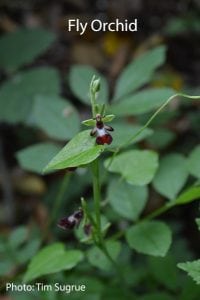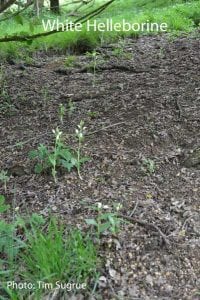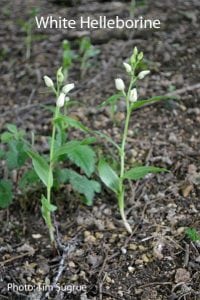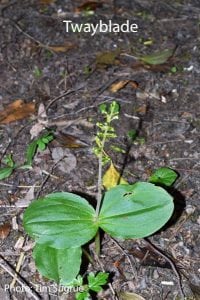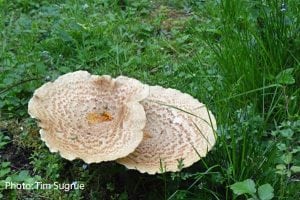 Reported 3rd May 2018 by Geoff
The cowslips are looking particularly good on the Hill at the moment, and the violets are also making a nice showing.
Reported 22nd April 2018 by Chris
Spotted on Charlton Kings Common this morning: a Cuckoo, five Tree Pipits, seven Willow Warblers and two Stock Doves.
Reported 25th March 2018 by Geoff
The size of Tramway Cottage car park on Daisybank Road has been extended by the removal of a bank of earth.  This now allows perpendicular parking on both sides and has significantly increased the number of spaces available.  This will hopefully alleviate the problems at busy times.  It is already being put to good use!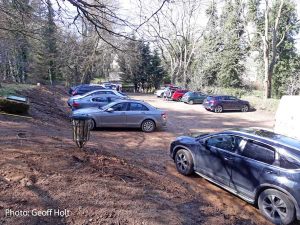 Reported 24th March 2018 by Pete
A very successful quiz night was held at the Wheatsheaf Inn last night.  About 60 people attended, not just from FOLK but also from other local 'Friends of' groups.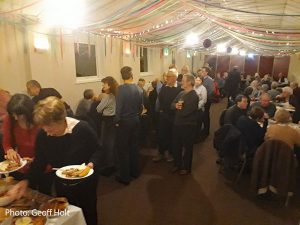 Reported 2nd March 2018 by Geoff
I was enjoying a cold walk on the Hill in the snow when I came across this father and daughter making the most of a snow drift!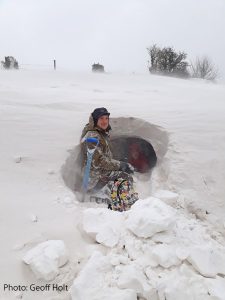 Reported 24th February 2018 by Geoff
Trees have now been removed from below the Bridge Car Park on Daisybank Road which means that there is now a good view down from the clearing above the car park through to Cheltenham and beyond.
Reported 7th February 2018 by Anne
Once again the Dexter cattle on the Hill have been winning, but this time they have excelled themselves!  The Midland Dexter Society has awarded them three first prizes: for Small Herd, Best Senior Cow Overall and Best Calf Overall.  Well done!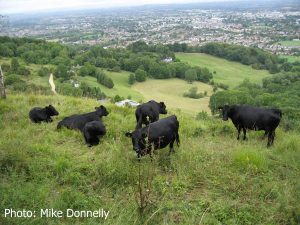 Reported 5th February 2018 by Kate
During 2017 we the Gloucestershire Bat Group carried out survey work on the Hill.  From the top of the Hill we found: lesser horseshoe bat, noctule and common pipistrelle.  From near the car park we had: Lesser horseshoe, long-eared, noctule and Myotis bats, as well as some calls we couldn't pin down to a precise species.  Interestingly, lesser horseshoe bats, a nationally rare species were recorded regularly on top of the hill each night, and only a
short while after sunset.
For more information, go to our bat page.
Reported 22nd December 2017 by Ken
I took this photo about a month ago at the end of Daisy Bank Road where it becomes a track , not far from the gate.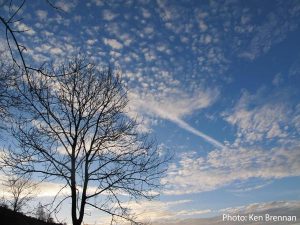 Reported 11th October 2017 by Geoff
We were visited today by 7 volunteers from the local firm Kohler Mira who spent the day wandering around the hill doing litter picking.  They filled a large number of bags.  We are very grateful to them for their efforts.  But, it's a pity people continue to spoil our Hill by leaving litter behind!!
Reported 11th August 2017 by Chris
Two Goshawks (m & F) over Leckhampton Hill early morning, a patch tick (very unusual for this area).  Also two Willow Warblers, six Bullfinches and a Raven.
Reported 10th August 2017 by Geoff
Lots of people taking off from the Hill with their hang-gliders today while we were enjoying a work party.  You can see 14 of them in this photo!
Reported 6th July 2017 by Chris
Seen on the escarpment of Charlton Kings Common this morning: a Marsh tit, a Raven, a Tree Pipit singing, several Yellowhammers, two Skylarks and a hunting Kestrel. Also numerous Marbled White butterflies.
Reported 17th June 2017
FOLK held a social night of skittles and BBQ at the Somerset Arms last night.  This was enjoyed by all those attending.
Reported 21st May 2017 by Tim
Finally got to find the Fly orchids on the Gallops today.  Also found some White Helleborine and Early Purple orchids.  I took these photos.
Reported 18th May 2017 by Pete
Snapped this picture of a fly orchid today. Thought it might be worth putting on the website.
Reported 15th May 2017
Tonight, Mike Donnelly was awarded the Cheltenham Medal of Honour 2017 at the Town Hall for his services to the Community, particularly his stalwart support of FOLK.
Reported 1st May 2017 by John
A visit to Charlton Kings Common on May 1 showed that the breeding season for birds is in full swing. Summer visitors were clearly establishing territories, with many Willow Warblers singing along Daisybank Road, whilst Blackcaps were less numerous but widely distributed. At least 3 males of the scarce Tree Pipit were heard or seen. Amongst the residents the male Yellowhammers and Linnets were particularly spectacular in their breeding plumage. The small and skulking Goldcrest and Treecreeper were heard rather than seen. The patrolling Sparrowhawk posed an obvious threat to all species.
Reported 24th April 2017 by Geoff
Lots of spring flowers starting to show now, particularly cowslips at the moment.
Reported 9th April 2017 by Chris
A Grasshopper Warbler reeling on Charlton Kings Common at sunrise this morning at SO955185.  Also three Willow Warblers, five Blackcaps, and five Chiffchaffs also in the area.
Reported 3rd April 2017 by Webmaster
An amazing video of Leckhampton Hill has been produced by Callum Chaplin using a drone.  You can view it by visiting our Site Description page.
Reported 17th March 2017 by Wayne
The Owl Conservation Trust has installed 10 owl boxes on the site to try to encourage Barn, Tawny and Small Owls.  They will be monitoring them for use.
Reported 26th February by Geoff
It was really lovely to hear the skylarks high up in the sky singing their little hearts out today.  We were crossing the field on the footpath from Hartley Farm to the Cotswold stone wall on Leckhampton Hill.  Is this a sign that spring is just around the corner?  I hope so.
Reported 1st February 2017 by Geoff
FOLK volunteers were invited by Cheltenham Mayor Chris Ryder to join her in the Mayor's Parlour, on two afternoons this week, for tea and cakes as a thank you for all the work done by them on the Hill.  Chris has been a long time member and supporter of FOLK and it was an opportunity for the volunteers to thank her for her continuing support.  They were very enjoyable visits, as witnessed by the photos below.
Reported 15th January 2017 by Serena
Our very own patch is one of 43 walks featured in the 2nd edition of Butterfly Walks in Gloucestershire recently produced by the local branch of Butterfly Conservation, the charity dedicated to 'Saving butterflies, moths and our environment'.   A route, starting from Salterley (also known as Wagon) Quarry takes you through one of the best (but by no means the only) areas of the hill for viewing these delicate beauties, as well as guiding you to the local landmark of the Devil's Chimney and for much of the route, affording excellent views out over the Severn Vale to the Malvern Hills and beyond.
The booklet is richly illustrated with colour photographs of the sites covered, species likely to be encountered, as well as a map showing the general location of each walk and individual maps of each walk described.  To help with timing your visit, a butterfly flight period chart based on local records has been included.
Copies of the booklet are available at a cost of £6.00 each (or 2 for £10) plus postage and packing £2.00.  Details can be found on http://www.gloucestershire-butterflies.org.uk/
Reported 2nd December 2016 by Geoff
You may have seen a lot of work going on recently over on the East end of the site between the Gallops track and the old Cirencester Road and wondered what is going on.  Well, this area, know as Hopkins Fields, is being fenced in to provide another area of secure grazing land that can be used by the Dexter cattle at times when they need to be moved off the Hill.  This work has involved a lot of tree felling and clearance work as well as fence erection.  During the work the remnants of an old Cotswold stone wall has been uncovered which it is hoped can be rebuilt.
Reported 11th October 2016 by Andrew
I've attached a picture taken this morning.  No, it's not Kilimanjaro, it's Cleeve Hill seen from Leckhampton Hill across the fog engulfing Charlton Kings.
Reported 18th August 2016 by Geoff
Once again volunteers from local company Kohler Mira donated their time yesterday to come and do some litter picking on Leckhampton Hill and Charlton Kings Common.  We are always very grateful to those who pick up litter left on the site.  It's just a shame that some people drop their litter, and filled dog poo bags (why!!), and leave it for someone else to sort out.  Thanks again to the lads from Kohler Mira.  You will be welcome back any time.
Reported 19th July 2016 by Andrew
I saw the following butterflies on the Hill on 14th July.
Another photo of a Silver Washed Fritillary taken in August last year showing the variations in colour is included below.
Reported 11th July 2016 by Rick
Forty one children completed the Countryside Code quiz at FOLK's stall at the Midsummer Fiesta.  No-one got every question correct, but several had six of the seven questions right, so there was a draw for the winner.  The lucky winners of a family entry ticket kindly donated by the Cotswold Farm Park were Ruby Garrett aged 11 and her sister Gracie aged 9, shown pictured with their mother.  The quiz question which caused the problems asked what you should do if farm animals chase you and your dog.  The official Countryside Code advice is as follows:  If cattle or horses chase you and your dog, it is safer to let your dog off the lead – don't risk getting hurt by trying to protect it. Your dog will be much safer if you let it run away from a farm animal in these circumstances and so will you.
FOLK signed up a record number of sixteen new members on the day.  A "raffle" draw from the membership forms was made for the generously donated prize of a meal for two at The Royal in Charlton Kings.  Peter and Anthea Lewis were the lucky winners, shown here holding The Royal's voucher.  Peter is also intending to join us on some of the work parties!
Reported 4th July 2016 by Mike
FOLK had a stall at the Midsummer Fiesta held in Montpellier Gardens on Saturday.  Although the event didn't officially start until 12pm, at 11:11am we had already signed up two new FOLK members for five years!  The weather was quite kind with only two light showers and some very welcome sunshine.  We had good interest in the history of the Hill display on the stand, although visitor numbers to the Fiesta and hence our stand were lower than last year. We also had a visit from Cheltenham's Mayor Chris Ryder who is a long term member of FOLK.  By the end of the day we had signed up 16 new members and 41 children had entered our Countryside Code Quiz.  A very successful day!  We will be contacting the prize winners in due course.
Reported 24th June 2016 by Eleanor
A 'Fun and Flowers' day was held on the Hill last Saturday.  This was part of the 'Magnificent Meadows' project (see http://www.magnificentmeadows.org.uk/conserve-restore/cotswolds for more information on the project).  A fund and informative day was had by all those who attended, as testified by the photos below.
Reported 19th June 2016 by Tim
FOLK Volunteers/Cotswold Voluntary Wardens organised a 'Save Our Magnificent Meadows' walk yesterday.  Twelve people took part. The walk was six miles and took three and a half hours – we had lots of stops to point out the flowers and anything else that took our attention. Unfortunately it was too cold and windy for much butterfly activity.
Three of the walkers were new to the hill! It was a lively and sociable group with lots of questions asked along the way. Everyone appeared to enjoy themselves. The rain held off and there were good views from the hill most of time.
Some photos taken during the walk are included below.
Reported 4th June 2016 by Alistair
The photos below are of Great Butterfly Orchids spotted on the Hill above Daisybank Road.
Reported 31st May 2016 by Andrew
Some photos of butterflies I've taken recently on the Hill.
Reported 20th May 2016 by Alistair
The display of cowslips in the Cowslip Field (follow the Cotswold Way off the hill to the southeast towards Hartley Lane) is near its best now.
No orchids evident yet, except for some Twayblades.
Reported 1st May 2016 by Serena
On a walk along the Leckhampton Hill western boundary footpath I came across the newly installed steps (by FOLK volunteers) which are a great safety improvement.  Well done and thank you.  (See before and after photos below.)
There were sounds of spring all around, with a Great Spotted Woodpecker drumming at regular intervals close to the incline slope, Meadow Pipits uttering their trilling song whilst performing their display flight on the slopes of the eastern edge of Charlton Kings Common and Skylarks delivering their contribution in prolonged flight all over the site.
Reported 28th April 2016 by Tim
I saw this adder on the hill today. Actually it was just below the Cheltenham Borough Council owned land, at the top of Sandy Lane on the Golf Course land.
Reported 14th April 2016 by Geoff
You may notice that an area on the slopes of Charlton Kings Common above the Gallops has been fenced off and electrified.  This is to form an 'exclosure' to stop the cattle, and deer hopefully, from grazing this patch of grassland.  It is intended to be operational throughout the flowering season until July to see whether or not excluding the grazing cattle from this area has an impact on the number of wild flowers and invertebrates.  There is some anecdotal evidence that the grazing has reduced the number of flowers and so the aim of this trial, which is likely to be repeated next year, is to check this more scientifically by doing surveys within the exclosed area and the adjacent area that the cattle will still have access to.
Reported 14th April 2016 by Tim
The spring flowers are now starting to appear on the Hill with violets in full flower and cowslips starting to appear.
Reported 1st April 2016 by Rick
I was inspired by the recent excellent talk by Ray Wilson on the Industrial Archaeology of the Hill to take another walk down the Bottom Incline to Leckhampton Road.  The pair of uprights forming part of the old pulley system at the top of the incline were interesting to look at, as well as this good row of blocks which were used for supporting and securing the old rail sections.
There is always something of interest on the Hill.  Yesterday there was a large gathering of paragliders from all parts of the region launching into the gentle Northerly wind, and more than 40 vehicles in and around Brownstones car park!
Reported 21st March 2016 by Mike
18 FOLK volunteers joined in a litter pick on the Honeybourne Line as part of the 'Clean for the Queen' initiative.  This resulted in so much waste that we filled one of Ubico's larger vans and they had to go away and come back for a second load!  Thanks to all the volunteers who made the litter pick so successful.
Reported 1st March 2016 by Geoff
When we were walking back from Sunday's work party we spotted a rare deer in a dell nearby '5-Ways' at the top of the Sandy Lane track.  Luckily it stayed still long enough for us to take a photo!
Reported 18th February 2016 by Wayne
Cheltenham Borough Council have installed a new interpretation panel local to the limekilns to explain the industrial history of Leckhampton Hill.
Reported 9th January 2016 by Andrew
The Hill in bloom in early January. The Gorse you would expect, but the daffodil is showing optimism in the extreme. Both pictures taken this morning.
Reported 11th December 2015 by Anne
Earlier in 2015 it was decided by the Charlton Kings Common grazier, Anne North, to enter her Dexter herd in the Midland Dexter Group Herd competition.  In August the judging took place when judge Mike Bancroft (a well known figure in Dexter circles as breeder and judge) visited Charlton Kings Common and Daisybank Fields to view the cows at pasture.  He travelled all round the Midlands to see all herds entered in the competition.
The results were announced at the Midland Dexter Group AGM at Stoneleigh on 6th December and Anne and family were astounded to learn that they had been awarded First place in the Small Herd category.  Their herd was the only one engaged in conservation grazing amongst the herds visited by the judge and he was most impressed with the condition and presence of the cows in their somewhat wild and rugged environment.
  Congratulations to Anne and family.
Reported 11th September 2015 by Geoff
Crowds of people gathered excitedly on the Hill today to witness a fly-past by the last flying Vulcan bomber on its grand tour of the UK before it is permanently grounded.  The press said it would fly over Leckhampton Hill … well, it flew round the hill, at a distance, so we couldn't see or hear it too well!  But we did see it, witness the photo below, with a bit of help from Photoshop!
Reported 30th September 2015 by Geoff
The Cotswold Voluntary Wardens have been busy working on the Hill and have opened up two new viewpoints on the top nearby the topograph.  There are seats, one new, by these viewpoints which are already being enjoyed.
They have also cleared the area below these viewpoints, called the 'butterfly motorway' by some, which had become very overgrown.  Thanks Cotswold Voluntary Wardens.
Reported 21st August 2015 by Geoff
The FOLK work parties have recently been focused on removing Hemp Agrimony from the slopes above the 'Gallops' on Charlton Kings Common.  Hemp Agrimony can spread rapidly and form dense patches that kill off the grassland we are trying to protect.  We have been working on its removal for a few years now and we seem to be winning.
There are no longer any large, dense patches of the plant which the grazing cattle ignore.  Instead we now have only lightly populated patches which the cattle are grazing.  Hopefully, with the help of the cattle and the occasional work party we now have this under control.  Time will tell!
Reported 7th August 2015 by Rick
Ollie Wilkins, aged 8, was the second name drawn from the children who got all the answers correct on the wildlife quiz run from the FOLK stand at the Midsummer Fiesta.  The Wilkins live on the edge of Prestbury and Ollie is pictured here holding his prize of a useful identification chart for garden birds, kindly donated by John Harvey.
Reported 16th July 2015 by Rick
FOLK ran a well-attended stall at the successful Midsummer Fiesta in the Park in Montpellier Gardens on 4th July.  FOLK were pleased to welcome 15 new members who joined on the day, and a draw was held for a meal for two at the Royal in Charlton Kings.  The lucky winner was Helen Nye, seen here holding the voucher, kindly donated by the Royal.  The Nye family live in Charlton Kings and are regular walkers on the hill.
There was lots of interest, too, in the children's quiz about wildlife to be found on the hill.  Several children submitted correct answer sheets, so there was a draw which was won by Clara Dykes aged 10.  She is pictured with her family, who are all looking forward to using the free family ticket generously provided by the Cotswold Farm Park.
Reported 9th July 2015 by Geoff
We were very grateful to 4 workers from Kohler Mira who donated their work's volunteer day to Leckhampton Hill and Charlton Kings Common.  They spent the yesterday walking all over the Hill and Common collecting rubbish.  In all they collected 8 large black plastics sacks full, and 3 abandoned tents!  A very worthwhile effort.
If any other companies/workers would like to volunteer then please do contact FOLK.
Reported 6th July 2015 by Mike
On a lovely sunny day the FOLK stand at Saturday's Midsummer Fiesta in Montpellier Gardens was busy all day, from before the 12 o`clock official opening time right up to the closure at 6`clock.  Nine FOLK volunteers worked a rota to man the stand.  It is estimated that over 10,000 attended the event. FOLK volunteers handed out nearly 100 business cards to interested members of the public, we signed up 15 new members including Alex Chalk the towns new MP. The children`s nature competition was very popular with over 40 entries completed. A great day with much support for the efforts made by FOLK to maintain the commons for public use.
Reported 25th June 2015 by John H
The grassland to the east of the Hill Fort currently has a good number of orchids in flower over most of this area. There are many fewer Orchids showing within the Hill Fort, but a few patches where they are fairly dense.
However, the most remarkable feature of these areas of grass today, but again most impressive outside the Hill Fort, was the massive number of plants of Yellow Rattle that were creating a virtual carpet. I have never, in 40 years as a plant ecologist, before seen such a dense and extensive population of this species.
Yellow Rattle is of course a semi-parasite, individual plants getting much of their food from the roots of grasses that they tap into. This inevitably weakens the grasses, as is very evident on the site at the moment, but this opening up of the sward has been shown to create sites that can be colonised by some of the desirable plant species characteristic on semi-natural grassland, so this parasitism can be a benefit to conservation rather than a threat.
Yellow Rattle, the name comes from the noise made when the seed filled pods are shaken, is an annual and is soon lost from a site if it is not allowed to set seed. Often the abundance of Yellow Rattle can fluctuate over the years. After a year with a large number of plants, then the grasses may be so weakened that the parasite's seed production is reduced so that the next years population must be smaller, or that the grasses do not recover adequately in the second year to support a large new population. This pattern can show itself as a wave of Yellow Rattle that moves across a grassland over the years.
Reported 23rd June 2015 by Serena
High summer butterflies are now flying – Small and Large Skippers, Marbled Whites, Meadow Browns and Ringlets.
Orchids are looking good, especially Bee, Common Spotted and Pyramidal as well as the diminutive Musk.
Reported 19th June 2015 by Geoff
Have you seen Salterley Quarry Car Park recently?  Contractors working for Cheltenham Borough Council have levelled and re-compacted the surface so instead of a difficult and uneven entry and parking area it's now nice and level.  There's lots of space here so why not use it instead of fighting for space in Daisybank Road or Brownstones car park.  A photo of the new surface is shown below.  If you are not sure where this car park is then see the map at Locations.  One thing to be aware of though is that there is a 1.9metre height barrier at the entrance.
Reported 17th June 2015 by Pete N.
Saw a newly emerged Ringlet on the hill on Monday – the first I have seen this year.
Reported 15th June 2015 by Tim
This is a GPS map of the Magnificent Meadows walk held on Saturday morning.


We had seven brave souls on the walk, and saw five species of orchid, but nothing of the views! The White Helleborines were especially lovely in the gloom!  The cattle behaved and posed impeccably.


In the afternoon we had only two people turn up. I did a slightly longer walk to include the Devil's Chimney, because they were both from out of the area. It was even wetter, but we did get some brief glimpses of Cheltenham from the top of Windas Hill.
Reported 12th June 2015 by Russell
During my butterfly survey on Monday I was lucky to see 2 Duke of Burgundy Butterflies together with lots of Common Blues & Small Heath.  4 red kites were circling above the top of Charlton kings common, mixing with some buzzards & landing on the adjacent farmland. Curiously a Roe deer was crossing the field as if wanting to investigate the red kites, but retreating when it detected my presence. A Kestrel also made an appearance,
hovering above the slopes of the common.
Reported Monday 1st June 2015 by Russell
I took these photos during a Butterfly id session on Sunday, in and around Brownstone quarry. Although not of butterflys, I thought they may be of some interest for the website.
They are of: Wood Tiger moth; Scorpion fly – panorpa sp. ; Frog Hopper – Ceropsis sp. ; Beetle Oedemeridae sp. & an unknown insect perhaps in a transitional stage.
Reported Friday 22nd May 2015 by Guy
Fly Orchid is in flower now but it will be well past its best by late June, though there might still be a few recognisable flowers.  Some White Helleborines are just starting to flower, but again they will mostly be over by late June.  There are few Greater Butterfly Orchid flower spikes and these too will be over or nearly over by late June.
Reported Thursday 21st May by Andrew
Early sightings made of the Common Blue and Small Heath butterflies today.
Reported Thursday 21st May 2015 by Geoff
Have you seen what Cheltenham Borough Council and their contractors have been doing recently?  They have added over 500 tonnes of stones to tracks and paths over the Hill and Common where they were prone to be muddy in wet weather – see below.
They have also been working on the ruins of the limekilns.  A fence has been placed around the ruins and they have been repointed and stabilised – see below.
Reported Tuesday 19th May 2015 by Alistair
Twayblade orchids spotted nearby where the FOLK work party were having a fire.  Actual picture below.
Reported Thursday 14th May 2015 by Geoff
Heard a cuckoo during a work party.  Probably not the first to have been heard this year but the first by me!
Reported Monday 11th May 2015 by Serena
The first sighting for this year of the Duke of Burgundy butterfly on Charlton Kings Common was this afternoon just above the golf course.  Also of note was a Painted Lady – a butterfly usually associated with high summer!
Reported Monday 4th May 2015 by Serena
I managed to fit in a "lap" of the hill this weekend, and although I only saw one butterfly (speckled wood) on my way back down Sandy Lane, I thought the cowslips on the hill fort were looking particularly good and, given another week, so will those in the Cowslip field.   There were also a few Early Purple Orchids beginning to show along the top of the scarp slope mid way along the eastern section of Charlton Kings common (above the golf course), as well as more in the same area but near the bottom of the slope but above the Gallops track, in an area cleared of gorse but which now has a quantity of bramble regrowth
Reported Monday 4th May 2015 by Pete N.
On the hill yesterday, saw green hairstreak and dingy skipper butterflies on the western grass slopes at the Hartley lane/quarry end of the hill. These possibly represent the first sightings this year on the hill – or at the very least evidence that they are active now. Something for nature lovers to look out for.
Reported Tuesday 21st April 2015 by Geoff
During the FOLK Work Party today, some volunteers spotted two adders basking on a wood pile – alongside where we were piling up scrub cuttings!  Actual photo shown below.