During 2017 the Gloucestershire Bat Group undertook some surveys on Leckhampton Hill using static bat detectors attached to trees in two areas as shown on the map below.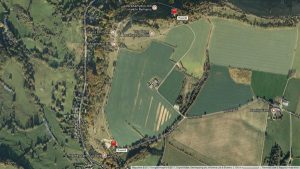 In summary, this survey confirmed the presence of at least five species.  These are:
Common pipistrelle
Brown Long-eared bat
Lesser horseshoe bat
Noctule
and various species of the Myotis genus (including likely Daubenton's bat
based on the calls)
Most diversity was recorded near the quarry (Point A) including social calls which suggest some sort of swarming behaviour might be going on, as suspected, although the number of calls recorded wasn't particularly high. The habitat around here is good with tree lines and pockets of trees and scrub providing cover and foraging areas.  In terms of hibernation potential, it will be tricky to inspect many of the crevices around the quarry faces, however, another stint of monitoring using the detectors during winter might give an indication if, and what, bats are using these features for hibernation.
Perhaps more interestingly, lesser horseshoe bats (a nationally rare species) were recorded regularly on top of the hill each night (Point B), and only a short while after sunset. This species is fairly light-averse and doesn't usually leave the roost until it is quite dark. Therefore, with such early recordings it suggests a nearby roost.
Consideration is being given to performing more survey work to build on this initial survey.
The following information regarding the four bat species specifically identified in the 2017 survey has been taken from the Bat Conservation Trust website and Wildscreen Arkive
Common pipistrelle bat
Pipistrellus pipistrellus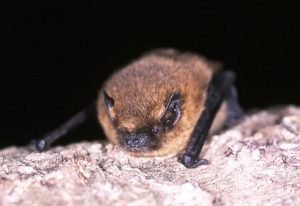 Pipistrelles are the commonest and most widespread of all British bat species. There are two very similar species, common pipistrelle and soprano pipistrelle. Pipistrelles are the bats that you are most likely to see. They appear fast and jerky in flight as they dodge about pursuing small insects which the bats catch and eat on the wing. A single pipistrelle can consume up to 3,000 insects in one night!
Vital statistics
Head & body length: 35mm – 45mm
Forearm length: 30mm – 35mm
Wingspan: 200mm-235mm
Weight: 3g – 8g
Colour: Medium to dark brown. Face and around the eyes usually dark.
Brown long-eared bat
Plecotus auritus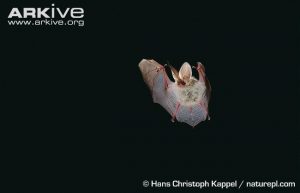 Brown long-eared bats are medium-sized. The ears are nearly as long as the body but not always obvious: when at rest they curl their ears back like rams' horns, or tuck them away completely under their wings leaving only the pointed inner lobe of the ear (the tragus) visible.
Vital statistics
Head & body length: 37mm – 52mm
Forearm length: 34mm – 42mm
Wingspan: 230mm – 285mm
Weight: 6g – 12g
Thumb: More than 6.2mm (in comparison with grey long-eared)
Tragus: Greatest width less than 5.5m (in comparison with grey long-eared)
Colour: Adults have light brown fur, pale underneath; juveniles greyish – beware confusion with grey long-eared!
Lesser horseshoe bat
Rhinolophus hipposideros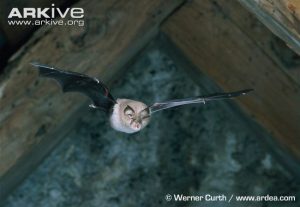 The lesser horseshoe bat is one of the smallest British species, being around plum-sized. At rest it hangs with the wings wrapped around the body . Like the greater horseshoe bat, it has a complex noseleaf which is related to its particular type of echolocation system.
Vital statistics
Head & body length: 35mm – 45mm
Forearm length: 35mm – 42mm
Wingspan: 200mm – 250mm
Weight: 5g – 9g
Colour: Adults pinky buff-brown, juveniles greyish (until a year old)
Noctule bat
Nyctalus noctula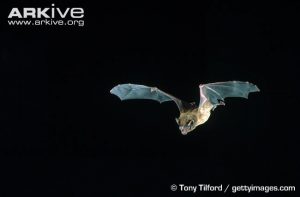 Introduction
The Noctule is one of the largest British species and is usually the first bat to appear in the evening, sometimes even before sunset. Noctules have broad brown ears and a distinctive mushroom-shaped tragus.
Vital statistics
Head & body length: 37mm – 48mm
Forearm length: 48mm – 58mm
Wingspan: 320mm – 400mm
Weight: 18g – 40g
Colour: Adults sleek chocolate brown, juveniles and some females dull chocolate brown