This route is a mix of hard or grassy and mostly flat surface accessible by any reasonably sturdy mobility scooter. Can be muddy after rain.  Gradients do not exceed 10% and there are no significant cross-gradients. There are gates along the way but these are fixed in an open position unless livestock are grazing the hilltop. It was designed and executed by the Cotswold Voluntary Wardens as a 50th Anniversary project with the help and support of the Leckhampton Hill Ranger (Cheltenham Borough Council), Friends of Leckhampton Hill and Charlton Kings Common, and the Disabled Ramblers. Please note: Some of the routes may be difficult or impassable in bad weather and after rain. Always wear appropriate clothing and footwear and beware of traffic. The Cotswold Conservation Board cannot accept responsibility for accidents or difficulties experienced by users of these routes.
Distance: The route is 2.25 miles/3.6 kms with ups and downs of 58m/190ft.
Route: The route is as indicated in the map and description below.  It is fully waymarked with these signs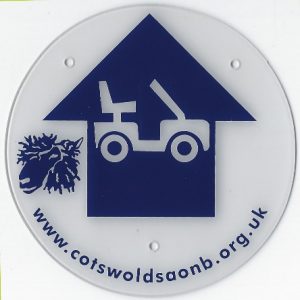 .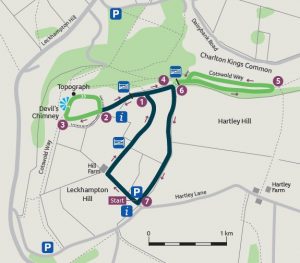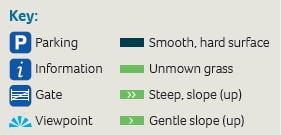 Start from the Brownstone car park in Hartley Lane. Access from Leckhampton Hill Road or the A435, Seven Springs roundabout. From the car park turn right and take the track past the barn, continue through a gateway onto a tarmac path to meet a cross path at

.
Turn left and shortly go through a gate to find an information board

. Follow the tarmac path through a gap in the earthwork and pick the leftmost or centre path ahead to proceed to find the Cotswold Way

as the ground falls away. The earthworks are remnants of an ancient hilltop settlement. Now turn right uphill along the scarp edge to a topograph, from here leave the Cotswold Way to make your way back towards the gap in the earthwork and point

.
From

continue along the path with the fence on your right to go left through a gate

rejoining the Cotswold Way and continue up a short sharp rise to another gate. Now take the broad path alongside the wall with a second information board. You may meet docile but inquisitive cattle on this stretch.
Towards

the path narrows at a Cotswold Way marker post, then forks. Take the right fork looping gently round through a copse to begin your return to

. Passing through the gate now go ahead through

down a hard path back to the start, alongside a disused brownstone quarry. At

emerge onto a road and turn right to return to the car park. Here you will find further information boards.